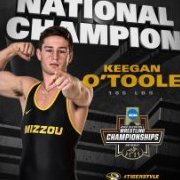 About This Club
All things Mizzou
What's new in this club

Well, I admit I am 100% biased and I hope that is true about Hawks. I have enjoyed talking with Whiting, but I have history with Hawks. I know there was some talk mid-summer about Mauller wanting to go 57, I hope that does not end up so, that would really throw a wrench in the lineup. I like the plan of Steed at 57.

Sounds like Hawks has the upper hand right now. Coach Smith answers just about every question this upcoming season in interviews on flo and themat. Sounds like there are going to be some battles. Keegan staying at 65.

That would be great! I'm always amazed that we do not have higher turnouts at home duals. I think this next seasons home schedule and the change of the mat/set up will help to bring in bigger crowds. The school and teams have really done so much more in showing out in support of each other, it's bound to start making a bigger impact.

2

It's time to renew those season tickets! How about a goal to average 3,000 fans a dual.

2

I got my NCAA tickets through Mizzou and I need ONE more ticket. Does anyone have a ticket in our section they aren't using and are willing to sell to me? Please PM me.

+1 after attending home duals for many years

I'm guessing you mean Hawks - yeah, we've known the family a long time and I think there is a few things there. I know he has a few surgeries since he senior year. I really thought once he focused solely on wrestling he would make some huge leaps, and those times off the mat have not helped. I am not sure they "know" him well enough to coach the best out of him. He's always been a pretty stoic kid who was hard to read, but would really dig deep for those he believed had his back. The grass isn't always green elsewhere, but I do know there's been a few coaches asking about him. I'd hate to see him go, especially since he is a Missouri kid.

Unfortunately I think your right. I'm a little biased toward him because he was in the room with my son when they first started wrestling. I can remember drilling moves and after just messing with the kids, playing, and thinking holy cow this kid is strong for a 5yr old.

Hawks was definitely undersized - he did weigh in at 184. They bumped him up because 1 - it gave him a match, 2 - Rocky still is not 100%. Personally, I think Smith has a preference for WI (Askren) guys and he will take Whiting. Hawks should probably be looking at the portal if he wants to be a starter.

I agree. Whiting or Hawkes then? Who do you think for next year?

We always go to several competitions a year but I am getting to the point of watching a lot of them on the iPad. I hate making the trip and then they end up sitting some guys. I hate to be that guy but it's a long drive to go watch their backups. Last year I brought some non wrestling fans with me and hyped up O'toole only to see the backup. Pretty disappointing. I missed the West Virginia dual because I was actually sick, but was glad I missed it since the best match was going to be at 125 lbs, but it didn't happen.

Haven't had time to swing by and ask coach Smith questions yet, but in the dual against WV Hawks wrestled 197. Looked undersized and lacked the horsepower needed.

Missouri has worked its tail off to have a top 10 team for about the last 15 years or better and if we get a thousand fans to come out and support that is a lot. I know wrestling isn't mainstream but just once I would love the Hearns packed with fans.

We will be heading there. I am hoping to see Surtin on the mats - I heard he knee was really bothering him. And I would like to see if there are any change ups at 184.

Who's headed to the Hearns Friday night for the West Virginia dual?

If we round to the nearest whole number, Intermat has them with 3, Flo has them with 4, and Wrestlestat has them with 5.

1

Those are all good questions. There is some good talent at 157 in the room. Would like to see how Steed develops, plus Fisher and Gioffre are tough but need to take another step. Mauller wrestled 157 last year but I thought he was small. Whiting has great positioning but needs to work on attacks. Sinclair is a stud but I have not seen him go so I can't give any thoughts in honesty. Depends on his transition to the next level. Cliché I know, but some can make the jump and others it takes awhile. Hawks I would love see get a shot at 184. Any of our 184 guys going up by next year are going to be undersized. More to ask coach, see if he will give any insight. There's always a plan but you well know in wrestling lots can happen. Thinks don't always shake out how we would like.

Do you think Whiting or Hawkes will be at 197 for a year after Elam or do you expect Sinclair to step right in after Redshirt? Also, 157 next year? You thinking Mauller?

Actually yes. Absolutely. Please do. Make sure you emphasize the guy on the BBS never said he thought that was what would happen, just that he hopes it would. Because Mocco would contend there next season.

Tell you what the next time I'm there I'll ask Brian and let you know what he says. That good for you

You have absolutely zero data to reinforce that sort of statement. Now you are just being silly. Mr. Askren has eluded to it being what he should do several times on FRL over the last couple/few years. Are you closer to the situation than him? Back to the original subject at hand: If Mocco were to go 157 it would make sense to have Harman go 174 and Whiting and Hawkes battle it out at 184 from next year on.

I get it you would like Mocco to drop. I would like to win lottery. Odds are probably similar for both.